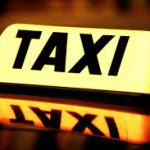 A Glasgow private hire driver is under investigation for allegedly refusing to allow Irish visitors to speak their language in his car.
The man, who has not been named, has been accused of offloading the passengers at the side of the road at 2am on a Monday morning after they objected to his demand that they stop speaking in Irish.
Kathleen McAleer, 21, a mental health nurse, was one of four passengers in the car in the early hours of Monday, December 16.
She was travelling with a friend and two first cousins from County Donegal from one house on the South Side to another.
The cousins, Joseph and Anthony Blair, 19 and 21, respectively are native speakers of Irish.
Speaking to Highland Radio News about the incident, Anthony said he was shocked at the taxi drivers attitude:

The company's Paul Muir said he would not comment on matter but says that he couldn't imagine four people coming over from Donegal and going to a party in Britain and not being drunk.
He is said to have then laughed.
Enforcement officers from Glasgow City Council are now looking in to a formal complaint against the driver, who works for Hampden Cabs.
Podcast: Play in new window | Download