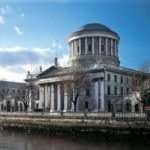 A daughter of Frank Shortt, the Donegal publican who received 4.5 million euro for a miscarriage of justice, claims she is being harassed by two former Scientologists.
36 year old Sabrina Collins Short, who is a member of the Church, alleges she was intimidated while handing out literature on drugs in Dublin city centre in the run up to Christmas.
Scientologist Sabrina Collins Shortt claims she was verbally abused and intimidated while distributing an anti drugs booklet around Parnell Square on December 20th last.
The mother of one claims two former Scientologists, who are now vocal in their disapproval of the church, are responsible for the harassment and she's secured a temporary court order against them.
One John McGhee of Armstrong Road, Clara , Co Offaly is alleged to have breached that order.
Appearing in court today he agreed to abide by its terms and effectively stay away from Sabrina Collins Shortt and another church goer.
He said when he was originally served with the order last month he binned it claiming that the Church of Scientology has previously served 'fraudulent documentation' in what he called a 'dark history of misleading people'.