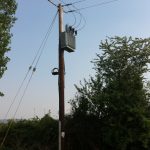 Update – 2.10pm

While the winds in Donegal have eased somewhat today, their legacy is being felt with power outages now being reported in four areas of the county.
ESB networks are still working to restore power in Rossgeir where there are 100 homes without power, and Newtowncunningham, where 33 homes are waiting to be reconnected.
Problems have also arisen in Glenties, where 29 homes are currently without power, that's down from 162 earlier today. Meanwhile, a problem which saw 41 homes without power for a time in Moville has now been resolved.