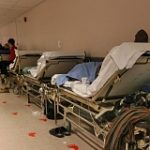 The number of patients waiting on wards and trolleys has fallen today.
Yesterday, 433 patients were waiting for a bed, while today, that number fell to 359. At Letterkenny General Hospital, there were 11 patients on trollies this morning, all of the in the Emergency Department. That compares to 31 yesterday, a fall of just over two thirds.
Nurses are protesting outside Leinster House in Dublin this lunchtime to voice their anger at the ongoing problem of overcrowding.
The Health Minister Leo Varadkar is meeting with stakeholders this afternoon on the Emergency Department Taskforce.