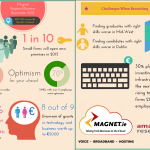 A survey has shown that while 60% of SME's in Donegal and the border counties are confident about the year ahead, but 16% are not, and that's the highest proportion in the country.
The inaugural Magnet Regional Business Barometer finds that 9% of businesses don't believe the government is doing enough to help them, but only 12% are aware of the technology and business grants available worth up to €5,000.
Mark Kellett is the CEO of Magnet…………….

Podcast: Play in new window | Download