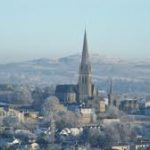 The Environment Minister is being accused of jeopardising future investment in Letterkenny and the surrounding areas.
Donegal North East Deputy Charlie McConalogue says Phil Hogan's decision to abandon the National Spatial Strategy will have serious consequences.
Deputy McConalogue says while Phil Hogan is promising new structures, the fact is  the spatial strategy is being shelved with no details of a replacement.
This, he believes, leaves Letterkenny and the other Gateway towns in limbo…………..

Podcast: Play in new window | Download