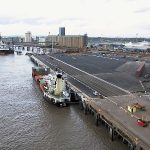 A 47 year old man from Tyrone is due in Basildon court in England later, charged after an Afghan immigrant was found dead in a shipping container in Essex.
The body of Meet Singh Kapoor – aged 40 – was discovered at Tilbury Docks last month, along with 34 others who survived.
Martin McGlinchley, from Coalisland, is accused of conspiring to facilitate illegal entry into the UK – along with two other men from County Derry.