Can't Pay Won't Pay are to hold a 24-hour protest outside Junior Minister Joe Mc Hugh's office today.
The protest in Letterkenny, against water charges, gets underway at midday.
The organisers of the protests say they aim is to send a strong message to the Minister at how unhappy they are with water charges.
Spokesperson, Michael Cholm Mac Giolla Easpaig is spokesperson for Cant Pay Wont Pay………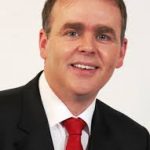 Meanwhile, Minister Joe McHugh says he is prepared to meet a delegation of the protesters today…………….

Podcast: Play in new window | Download