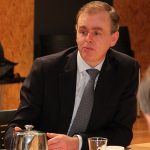 The Head of the HSE has admitted waiting list targets are too ambitious.
It follows the publication of their Service Plan for 2015 yesterday, which aims to reduce the time it takes to see a hospital consultant to under a year by the end of 2015.
According to reports, nearly 50 thousand patients are currently waiting more than a year for an appointment, over 2,500 of them at Letterkenny General Hospital.
Meanwhile, Junior Minister Joe Mc Hugh says the service plan provides for the continued recommissioning of services at Letterkenny General Hospital in the wake of the 2013 floods, but he's also hopeful that the hospital will benefit from funding to speed up the discharge process……….

Podcast: Play in new window | Download