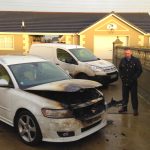 There's been an arson attack at the home of a Sinn Féin councillor in Strabane.
Two vehicles parked outside Councillor Jay McCauley's home were set alight late last night.
His party colleague MLA Michaela Boyle has condemned the attack, saying the people of Strabane are outraged at this attack. Many local people have been in contact with Jay and our office this morning expressing their anger.
She added it says much about the mentality of the criminals behind this threat that they would target Jay's family home while he and his wife and children were asleep. It shows the cowardly nature of the attack.