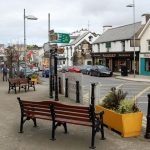 Can't Pay, Won't Pay say they want a Christmas atmosphere at their demonstration in Dungloe tomorrow, the last before the end of the year.
Local Independent Councillor Michael Colm Mac Giolla Easbuig is one of the organisers of the march, which leaves Ostan na Rossan at 1 o'clock.
He says the fact that the Water Services Bill is likely to be signed into law next week will not impinge on the campaign, which is calling for a strong boycott in 2015.
However, he says they are anxious that tomorrow's event is a festive one………….

Podcast: Play in new window | Download