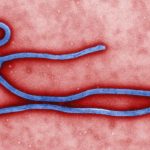 The Scottish nurse being treated for Ebola at a London hospital has strong Donegal ties.
Pauline Cafferkey, 39, fell ill after returning from Sierra Leone and is the first person to be diagnosed with Ebola in the UK.
It has emerged that Ms Cafferkey's late granny was originally from the town land of Rannyhual near Kincasslagh.
Ms Cafferkey travelled home via Casablanca and London Heathrow, spending around six hours in each airport before catching connecting flights.
She remains in isolation at a London hospital facility.