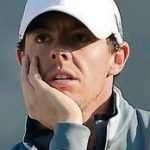 Rory McIlroy's multi-million euro Hugh Court action against his former management company has been adjourned until 11 o'clock on Wednesday morning.
It follows two deferrals of today's proceedings to allow for discussions between the legal teams of the world's number one golfer, and his former management company Horizon Sports.
Earlier the court heard that both sides were "making progress".
McIlroy is suing Horizon Sports – claiming a contract he signed with them in December of 2011 is "unconscionable".
In a counter-claim, Horizon alleges that it's entitled to a cut of McIlroy's earnings until 2017.