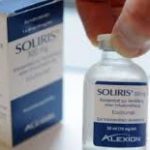 The Taoiseach says he wishes a company that has a life-saving drug for treating a very rare blood disorder would be "more reasonable".
Fianna Fáil has quizzed Enda Kenny again about the refusal by the H-S-E to offer the drug Soliris to five more patients in need of it, one of them Maeve Mc Gill, a 15 year old girl from Ardara.
10 people are getting the drug on a pilot scheme at at cost of over 400,000 euro each a year.
Enda Kenny says the Government and H-S-E are trying to get the drug at a cheaper price from Alexion Pharma……………..

Podcast: Play in new window | Download