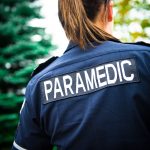 A Garda was asked to drive an ambulance to Letterkenny General Hospital because no paramedic was available, a county councillor has claimed today.
Cllr Liam Blaney says the incident happened in the vicinity of the hospital.
In a similar incident last year an ambulance was called out by a mother – but it was only staffed by one paramedic because another had phoned in sick.
He was then unable to drive the ambulance and treat the child at the same time – and a backup ambulance was 45 minutes away.
Speaking on todays Shaun Doherty Show, Donegal County Cllr, Liam Blaney, who was made aware of the latest incident, said paramedics should not be put in this position…..

Podcast: Play in new window | Download