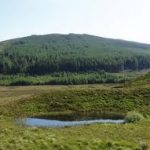 A spokesperson for woodland owners in Donegal has called for a stop to the selling of our states forests.
Speaking to Highland Radio, John Jackson stated there was a unanimous agreement among woodland owners that state harvesting rights and forestry lands should not be sold off.
Mr Jackson says Donegal has a huge resource which isn't being realised, and with support, forestry and woodland can make a major contribution to the county's economy, through employment and renewable energy as well as bringing recreational and environmental benefits….

Podcast: Play in new window | Download