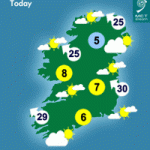 Last month was the coldest March on record in many parts of Ireland, except in the south and south west.
Met Éireann's issued a review of the month, showing monthly mean temperatures were up to 3 degrees below average in most parts.
This was reflected in Donegal, where the mean temperature for march in malin Head was 2.7% below average.
Rainfall levels were on or above average in the East, Southeast and in parts of the South, with most areas reporting their wettest March in five to seven years. However, in Donegal, the situation was reversed, with rainfall levels at Malin head 70% of the average for March.
Forecaster Sinead Ryan says it was the bitter cold which dominated during March 2013……..

Podcast: Play in new window | Download