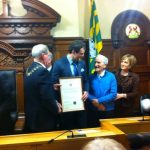 Michael Murphy has today been afforded a Civic Reception by Donegal County Council this afternoon.
The Donegal captain was given the reception in recognition of his outstanding sporting achievements.
The packed chamber at the County House in Lifford gave a standing ovation to the GAA star, who paid tribute to the various support groups who have enabled him to fulfil his dreams.