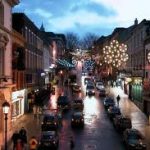 Shipquay Street and Shipquay Place in Derry have been closed by police following a telephone warning of a bomb.
Police are conducting a search and have evacuated a number of premises.
Motorists are advised to avoid the area and police would ask anyone noticing any suspicious objects to contact them immediately.