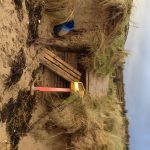 Persons intending to go for a beach walk over Christmas are being urged to avoid the walkway at Lisfannon near Buncrana, which has become very dangerous as a result of erosion.
At present, a popular stretch of the walkway has been blocked off by Donegal County Council as it is deemed to be dangerous.
Town Councillor Ciaran Mc Laughlin says there is a very popular Christmas swin at that beach, and he's urging people to take care in the coming days…….

Podcast: Play in new window | Download