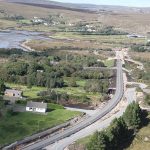 The N56 Cloghbolie to Boyoughter Road Scheme will be officially opened this afternoon, bringing to a conclusion what's been described as a very important road safety project between Glenties and Dungloe.
The NRA says this is a first step, and as funds become available, it wants to do more on that route.
The 3.3 kilometre project has been a long awaited one in South West Donegal, eliminating the infamous "Meenacarn Bends" just north of Leitirmacaward, and significantly improves travel times for motorists travelling on the N56. The works were completed last June.
Donegal County Council says the Cloghbolie to Boyoughter Road Scheme is the first section of the broader 26 kilometre N56 Dungloe to Glenties (Kilraine) Road Scheme to be constructed.
A combined cycleway and footway is planned over the full length of the scheme, with the exception of Glenties Town. The council says this is in keeping with Government's smartertravel policy and the National Cycling Policy Framework.
Fred Barry, CEO of the National Roads Authority says this is one important step towards improved safety for all road users; pedestrians, cyclists and motorists. He says the NRA remains focused on completing the entire upgrade between Dungloe and Glenties, as funding becomes available.