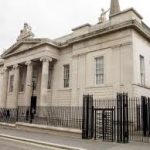 A woman has been sent for trial on charges of stealing more than £30,000 from a local church in Derry.
Lyndsey Bredin (27) of 12, Primity Crescent in Derry appeared at a preliminary enquiry at Derry Magistrate's Court today.
She was charged with 19 counts of stealing the money from Culmore Parish Church on dates between March 24 2010 and October 17 2011.
It was accepted that there was a case to answer and Bredin said she did not wish to call any witnesses or make any statement at this stage.
She was released on her own bail and returned for trial to Derry Crown Court on February 13.