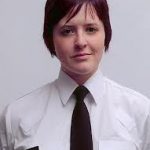 The car that was involved in the collision that resulted in the death of PSNI constable Philipa Reynolds travelled at speeds up to 80 miles per hour Derry Crown Court heard today.
Shane Frane (26) whose address was given as c/o Maghaberry Prison and Conor Clarence (24) of Bond's Hill in Derry have admitted a series of charges relating to the incident that occurred on February 9 last year.
A prosecution barrister told the court that both men had been drinking heavily and taking drugs and decided to steal a car and drive to Limavady.
They failed to get into the first vehicle they tried and damaged it. They then broke into a house and stole keys and a Toyota Landcruiser.
CCTV showed Frane driving and the vehicle went through two sets of traffic lights.
The stolen vehicle struck the armoured vehicle constable Reynolds was the rear seat passenger in and Frane and Clarence fled the scene.
The barrister said: "Unfortunately the injuries to constable proved fatal."
Both men were arrested nearby.
At interview Clarence said Frane had driven at 80 mph and that he had tried to get him to slow down.
Frane initially denied the offence but then admitted it. The barrister said the driving was 'entirely reckless' and described Frane as 'incorrigible a man who was unwilling to change his behaviour'.
Defence barrister for Frane Ms Eilis McDermott QC referred to reports on her client in which he said: "There is nothing I can say that is going to make it better I am sorry." She said 'despite appalling behaviour that night which resulted in consequences that can never be put right' Frane was a young man who was trying to change.
She urged the court not to impose an indeterminate custodial sentence.
Defence counsel for Clarence Mr. Billy McCrory said his client wanted to express 'his extreme and profound remorse and regret'.
Judge Philip Babington said he wished to offer the court's sympathy to the Reynolds' family.
He will sentence the pair on February 4.