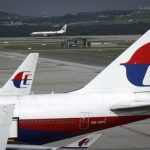 Two objects have been spotted in the Indian Ocean by Australian aircraft searching for the missing Malaysia Airlines plane.
Satellite images and data have also identified possible debris in the area that may be linked to the disappearance of flight MH 370.
A ship is on its way to recover the possible debris from the Indian Ocean.
The vessel will attempt to retrieve the two objects within the next few hours.
Malaysia's acting Transport Minister Hishammuddin Hussein says other ships are en route but they will not reach the search area until tomorrow
"RCC Australia anticipates that 10 aircraft will be used; HMAS Success remains the only vessel in the search area" he said.
"A number of Chinese vessels are expected to commence arriving within the search area on the 25th of March" he added.