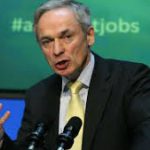 More than 60 new high-end jobs are to be created as part of a 4.5 million euro investment at Letterkenny Institute of Technology.
Work has commenced on the new 20,000 square foot Science Park building which Jobs Minister Richard Bruton says will help develop science, research and innovation in the North West region.
An additional 55 construction jobs will be created during the building phase.
The jobs announcement was made by the minister during a visit to Letterkenny this morning.
Over 100 small business owners attended a conference hosted by Minister Bruton in Letterkenny this morning.
Richard Bruton outlined to the audience in the Station House Hotel the Governments Action Plan for Jobs.
During the conference a number of small business owners pointed out to the Minister that they are being crippled by high rates.
It was also pointed out to the Minister that the Bonagee Link was needed more than ever, after a recent RTA brought Letterkenny to a standstill for hours.
Speaking to Barry Whyte, Minister Bruton disputed claims that the government has failed to created jobs in Donegal, and said there are positive things happening in the county……….

Richard Bruton in Letterkenny this morning

Podcast: Play in new window | Download