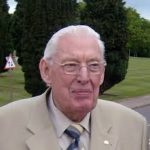 The former Northern Irish First Minister Dr Ian Paisley has died.
News of the former DUP leader's passing was confirmed by his wife Eileen a short time ago.
Political correspondent Pauric Gallagher has been looking back on his career…..



Politicians North and South have been paying tribute to Dr Paisley – Martin McGuinness said in a Tweet today he had lost a friend.

Very sad to learn that Ian Paisley has died.My deepest sympathy to his wife Eileen & family.Once political opponents – I have lost a friend.
— Martin McGuinness (@M_McGuinness_SF) September 12, 2014
Podcast: Play in new window | Download