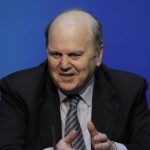 The Finance Minister has told his Fine Gael colleagues to move on from the McNulty affair – or face the consequences at the next election.
The parliamentary party met for over two hours last night – with John McNulty's appointment to IMMA and Seanad nomination dominating the agenda.
Taoiseach Enda Kenny told his backbenchers that he's "no Charlie Haughey" – while Michael Noonan said the party needed to avoid internal rows so close to Budget Day.