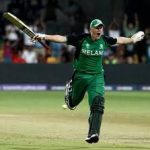 Ireland 's cricketers are now preparing for this Sundays meeting with India at the World cup following Wednesday's record breaking win over England. Kevin O'Brien hit the fastest century in the competitions history with 113 of just 63 balls, the 26 year old picked up a knee injury but is expected top be fit for the next match. O'Brien was run-out by Matt Prior in the second-last over after reaching 113 – but the damage had already been done. John Mooney and Trent Johnston kept their cool to steer Ireland home, with Mooney hitting the winning boundary from the first ball of the final over.
Here's O'Brien on yesterday's innings.

West Indies legend and Irish coach Phil Simmons says his team can improve for the next match.
Podcast: Play in new window | Download