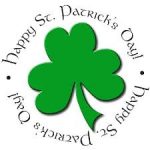 There's bad news on the weather front for those planning to celebrate St Patrick's Day in Donegal this weekend.
A cold and wet day is forecast with temperatures no higher than 6 degrees.
There will parades in Letterkenny, Buncrana, Ballyshannon, Bundoran, Donegal Town and the Twin Towns to name but a few.
Forecaster with Met Eireann, John Eagleton says people should wrap up warm……

Meanwhile, thousands of people are expected to line the streets of Letterkenny for the annual St.Patrick's Day parade.
The parade starts at 3pm on Sunday.
CEO of Letterkenny Chamber, Toni Forrester says despite the weather fears, they are still hoping for a big turnout this year. She says the parade will be a traditional one….
Podcast: Play in new window | Download