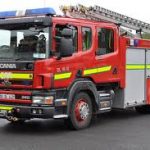 The fire service spent several hours last night bringing a serious gorse fire under control outside Dungloe.
Three separate fire units were in attendance to tackle the blaze.
The fire took hold in the Tubberkeen area near Dungloe at around 10 o'clock last night.
Scores of local people joined fire officers from Dungloe and Gweedore as winds caused the fire to spread rapidly.
Several local farmers arrived on the scene and remained on standby with water tankers as the fire came close to several houses.
Local reports suggested that the fire may have been started by a straying Chinese lantern.
Fire crews remained on scene until around 2 o'clock this morning before the fire was eventually brought under control.