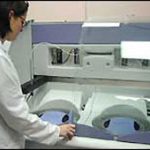 Randox Laboratories have announced a multi-million euro deal to supply laboratory equipment to the Saudi Arabian government.
The company, whose headquarters is in County Antrim, employs 42 people at its facility, with that figure expected to grow by 200% within the next two years.
Randox has had a presence at Meenmore in Dungloe since 2008, and two years ago, announced it was buying the plant it had been leasing from Udaras na Gaeltachta. Last month, Randox announced that the numbers there would rise to 130 by 2015.
It's now expected that Dungloe will benefit substantially from the deal announced today, which will see fifty of Randox's analysers supplied to hospitals across Saudi Arabia, with the potential for further orders next year.
Dr. Peter Fitzgerald, Managing Director at Randox said today the deal with the Saudi Ministry of Health would allow for further re-investment in the rapidly expanding business.