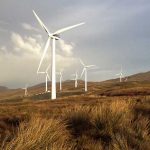 An Bord Pleanala has granted permission for the extension of the Corkermore Wind Farm.
The permission allows for the contraction of 4 extra turbines on the site in the south of the county and upholds an early Donegal County Council decision.
The site of the windfarm is in the south of the county 9 kilometres north-east of Killybegs.
The permission is for the erection of 4 wind turbines on the site, each with a hub height of 60m and 3 rotors 40m long.
An appeal was lodged against Donegal County Council awarding permission on a number of grounds including that it didn't take correct note of public submissions, the impact of low level sound on human health as well as a potential negative impact on the environment, scenic beauty and tourism.
In its conclusion, An Bord Pleanala said the proposed development would not be likely to have any significant negative impacts on the environment in relation to the landscape, noise emissions, shadow flicker, slope stability, water quality or otherwise.
It concluded the proposed development would therefore be in keeping with proper planning and sustainable development of the area and can go ahead.