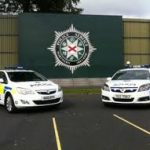 The PSNI has arrested two men as part of the investigation into an armed robbery of a business premises in Ballybofey.
The two men in their 20s were arrested on Sunday evening in the Carlton Drive area of Strabane as part of what has been described as major police operation.
reports:
The arrests follow an incident on Friday evening when two masked men threatened a taxi driver with a suspected gun in the Glebe area of Strabane forcing him to drive to Ballybofey.
The men told the driver to remain in the car before entering the Betting Lounge.
Despite being threatened, and ordered to stay in his vehicle, the taxi driver fled the scene to a nearby shop to raise the alarm.
It is understood the robbers, who took the car's keys with them, returned to the vehicle and then made their getaway.
The men then fled back across the border, and the taxi was recovered by the PSNI in the vicinity of Castlederg.
The taxi driver was shaken but unharmed.
The two men were arrested in Strabane yesterday as up to thirty police officers surrounded a house in Carlton Drive.