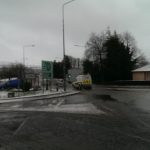 There are calls for an investigation after it emerged on Highland Radio that a PSNI Landover  crossed the border into Lifford this morning .
A witness told the station that the vehicle crossed the bridge into Lifford and drove around the roundabout before returning across the bridge into Strabane.
Councillor Frank Mc Brearty has described it as an international incident which should be fully investigated, stating that the PSNI's unprofessional behaviour cannot be tolerated by our state.
He says they could have been targeted by Dissident Republicans in Lifford:

In a statement issued to Highland Radio this afternoon, the PSNI say the patrol inadvertently crossed the border for a short time.
On realising his error the driver turned at the next available roundabout. Police have made An Garda Siochana aware of the incident.
Podcast: Play in new window | Download