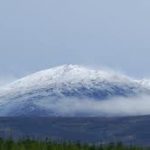 Driving conditions in many parts of the Northwest are described as treacherous after overnight falls of snow and freezing conditions.
A number of minor collision have been reported as ice and snow affected many areas.
Conditions will not improve much as Wednesday progresses with more wintry showers set to hit the Northwest.
Met Eireann has a Yellow weather warnin for Donegal predicting that extremely windy weather will sweep up from the south during today, Wednesday. Westerly winds 50 to 65 km/h will gust to 100 to 110 km/h.
There is a Red alert warning for counties Cork and Kerry with gusts of up to 160 kilometres per hour forecast for there this morning.
Forecaster with Met Eireann, Pat Clarke says it will be a stormy and wet day later:

Meanwhile Gardai are warning motorists to drive with care this morning. Conditions are said to be dangerous in around Barnesmore Gap, but it is passable with care.
Podcast: Play in new window | Download