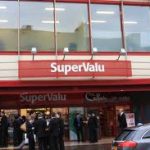 SuperValu, Aldi and Lidl are increasing their sales as other retailers lose their share of the retail market.
While Tesco is still the biggest supermarket chain it has seen a drop of 6.6 percent of the market share.
Kantar Worldpanel, which compiles the figures, says Supervalu has been the big winner over the last 12 weeks.
Our Business Editor Ian Guider says that is set to increase even further.
"Supervalu has done really well – getting its market share about 20 percent – and it'll grow even further now that it's taken on the 24 Superquinn stores" he said.
"It'll have an instant market share of around 25 percent – a great platform, particualrly to expand in Dublin".
"But the discount retailers Aldi and Lidl…are rocketing up by more than 20 percent, in the case of Aldi, and Lidl as well doing quite well".
"Cheap vegetables – we know it was the controversy before Christmas – that is dragging shoppers in".
"People just seem to want to do their shopping there" he added.