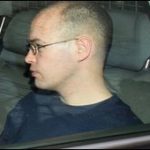 Two men, one an Irish army reservist from Co Donegal, have been sentenced on gun charges arising from a planned attack on a trainee policeman's home in 2009.
Belfast Crown Court heard that the attack, in Garrison, Co Fermanagh, was foiled by undercover police.
The judge told 28-year-old Gerard James McManus, from Fernhill, Letterkenny and 35-year-old Kevin Barry Nolan, from Blacklion, Co Cavan had planned to endanger the trainee officers life but the attack was foiled by undercover police during an intelligence led operation at a block of flats in the village of Garrison where the student officer was living.
The judge said an aggravating factor against McManus was that he had served nine years in the Irish army and was trained in the use of weapons.
The men were jailed for a total of 12 years and six months. McManus was sentenced to six years and six months in prison, while Nolan received a six year sentenced.