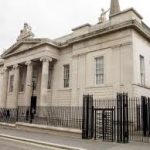 A former Derry swimming instructor has been jailed for four and a half years for 'historic sexual abuse' that occurred when he was in his late 40s and his victim was aged between 12 and 16.
Brendan McGowan, now 69, of 7 Brewster's Close in Derry had admitted nine counts of indecent assault, gross indecency towards a child and incitement to commit acts of gross indecency on dates between September 1989 and June 1993.
Passing sentence the Recorder of Derry Judge Philip Babington said that the victim suffered from a range of problems which he attributed to the abuse.
In 2012 the victim reported the abuse to police and the defendant was interviewed.
He admitted knowing the injured party but denied anything inappropriate had occurred.
He said the offences were aggravated by the age gap between the victim and defendant, the 'age and vulnerability' of the victim, and the length of time the offences went on for.
Passing sentence Judge Babington said that due to the nature of the offences a consecutive sentence was appropriate and sentenced McGowan to four and a half years with 18 months of that to be service in custody and 3 years on probation.
He is also subject to the sex offenders register for a period of 10 years, and prohibited from working with children.