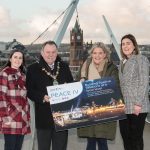 Groups across Strabane and Derry are being urged to support a new Peace Tourism project aimed to bring together local organisations across the region.
The project will support the sector with producing, piloting and promoting tourism packages that will meet local, national and international visitor demand.
The Natural Connections: Peace Tourism Project is part of the Shared Spaces and Services priority area of the PEACE IV Programme and is open to community, cultural and historical tourism, mainstream tourism and specialist facilitators in the good relations field.
Mayor of Derry City and Strabane District Council, Councillor Maoliosa McHugh is urging local organisations with expertise in this field to get involved.
He says the project will offer the opportunity to explore issues of conflict and reconciliation and revisit moments of significance in the region's history to create a unique visitor experience.