An inquest jury on a man who drowned in Glencolmcille today(Wed) urged a new law be introduced requiring divers to be professionally medically examined instead of conducting medical self-assessments.
The jury recommended that independent medical examinations by professionals be introduced by diving clubs.
They were returning a verdict at an inquest in Sligo on 41-year-old father of two Andrew Goodwin who was pronounced dead at Sligo General Hospital after getting into difficulties in five metres of water while diving at Glencolmcille, Co. Donegal, in April last year.
The inquest heard that Mr Goodwin, of Antrim town, was diving with Larne Sub-aqua club after a 15-year break. Dr Malcolm Little, who conducted the post mortem examination, said death was due to drowning.
He added that there was a very slight trace of alcohol and cocaine in the dead man's system. The alcohol could have been a residue from the evening before.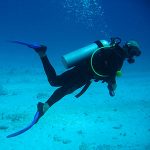 The Coroner  said from his experience socialising the day before a dive could cause a reaction to chemicals in the body and interfere with a diver's ability to cope.
He was not saying that happened in this case but he urged divers not to socialise for up to 24 to 48 hours before a dive.
The jury returned a verdict that Mr Goodwin died by drowning, adding a recommendation that a law be introduced requiring divers to be professionally medically assessed.