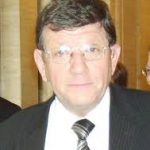 Sinn Fein are accusing the SDLP of a 'cop out', after they said they would not block a bill barring ex-prisoners from becoming special advisers at Stormont.
SDLP leader Alistar McDonnell announced yesterday that his party would not sign a petition of concern which could have prevented the Special Advisers Bill becoming law.
It's believed that the SDLP will abstain from next Mondays vote.
West Tyrone Sinn Fein MP, Pat Doherty has said that the SDLP are simply trying to get one up on his party….

Podcast: Play in new window | Download