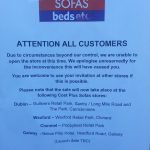 The Cost Plus Sofa sale which was scheduled to begin in Letterkenny today has been cancelled.
The decision was taken by the company which said it had to do so due to circumstances beyond its control.
The short notice decision this morning comes despite an extensive local media campaign.
Highland Radio has spoken to a number of disgruntled customers who travelled to the store this morning, many from a great distance.
The company nor the owners of the property have made any comment on the matter.