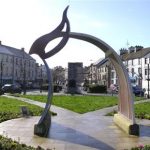 The DUP are due to meet Assistant Chief Constable George Hamilton later to discuss a republican march planned for Castlederg.
There has been much controversy surrounding the parade, and just last week DUP Cllr Ruth Patterson was arrested over comments she made about the planned republican parade.
Tyrone Volunteer's Day parade will commemorate the county's republican dead, including two IRA members killed by their own bomb in 1973 this weekend.
The parade is backed by Sinn Féin.
The Parades Commission has placed restrictions on the march and it has been re-routed to avoid a war memorial in the town.
DUP minister Arlene Foster and MLA Tom Buchanan, have said they will be emphasising to PSNI Assistant Chief Constable George Hamilton the importance of adequately policing the parade.