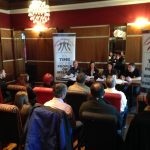 An unofficial referendum on Irish unity is to be held later this month in Strabane and Lifford.
The 'United Ireland – You Decide' campaign was officially launched in Strabane this afternoon under the "People's Referendum" banner.
Speaking at the event, campaign Chairperson Grace McDermott pointed out that the right to a vote on the reunification of Ireland is enshrined in the Good Friday Agreement, and stressed that while this issue is also being pursued by Sinn Fein, the initiative launched today is a non-party community based movement.
She's been outlining how the process will work………..

Podcast: Play in new window | Download