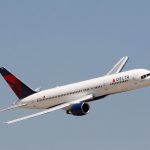 A niece of fashion designer Ralph Lauren has told a court in Clare that she intends to plead guilty to charges following an alleged air rage incident on board a flight bound for JFK New York yesterday.
41-year-old Jenny Lauren was travelling from Barcelona when the Delta Airlines flight had to be diverted to Shannon.
She is charged with being drunk and a danger to herself and other passengers; behaving unruly despite requests from the air crew to stop; and with engaging in a threatening, abusive or insulting manner.
Judge Patrick Durkan said he intends to remand Ms. Lauren on bail of 2,500 euro to appear before Ennis District Court tomorrow.
Reporter Dave Raleigh was in court.
"Jennifer Lauren shielded her face from a large media gathering as she appeared inside Killaloe District Court this morning…which is located in a backroom of the Brian Boru pub and restaurant" he said.
"She openly wept before her case was heard in court".
"Garda Yvette Walsh of Shannon garda station gave evidence of arresting Ms. Lauren off a diverted Delta Airlines flight at Shannon Airport" he added.