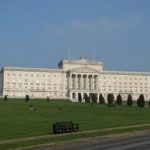 The Northern Ireland assembly has officially criticised Sinn Féín and the British government over secret letters given to IRA suspects.
MLAs in Stormont have adopted a motion expressing disgust at the "hidden actions" which saw 'letters of comfort' given to up to 200 suspected republican paramilitaries.
The vote follows the collapse of the trial of the alleged Hyde Park bomber, John Downey, earlier this week.
The North's DUP Enterprise Minister Arlene Foster said Unionists would not tolerate a blanket amnesty for suspected republican criminals…………

Earlier, Deputy First Minister Martin McGuinness has expressed concern over the "On The Run" issue, claiming far-right elements in Unionism were using legacy issues to destabilise the peace process.
He claimed the issue was being used by those opposed to power-sharing, and accussed the main unionist parties of being led by those on the extremes……….
Podcast: Play in new window | Download