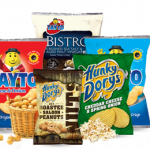 Staff at Largo Foods in Gweedore have been called into a meeting with management this afternoon.
Staff have not been informed why the meeting has been called but there are concerns being expressed that job losses could be announced.
Largo foods describes itself as a  leading manufacturer and distributor of premium snack-foods – its has factories in Gweedore and Ashbourne in Co Meath.
Over 150 people are employed at its factory in Gweedore.
The meeting takes place at 2 o'clock.