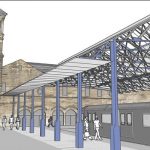 The Derry based rail campaign group Into the West says redeveloping the old Waterside rail station inDerrycould be the catalyst for re-vitalising the Waterside.
Plans have been produced by architecture students from Queen's University showing how the station could look by 2020.
The eight students – five of them first years – were taking part in Queen's University School of Architecture's 'Street Society 2014' programme. They spent last week in Derry at the invitation of Into The West, which set them the challenge of describing the old station transformed as the city's 21st century rail terminus.
A spokesperson for the lobby group says in view of what the students produced in just four days, it would be unthinkable for Translink and the Department of Regional Development to choose any other option forDerry's new rail terminus.