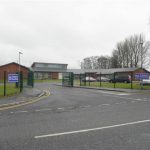 The North's Education Minister has confirmed that a primary school in West Tyrone is to close next year.
The closure of St Macartan's Primary School in Dromore will see pupil's transferred to nearby St Dympna's Primary School.
In a statement this afternoon, John O'Dowd said St Macartan's Primary School has provided an excellent education to children from the local community, but it has suffered from declining enrolments.
Following two public consultations, he says he has decided to approve a proposal to close St Macartan's Primary School, Dromore with effect from 31 August next year.
St Dympna's, he says, is a popular rural primary school with a healthy enrolment, but there are indications that there is some need to increase capacity at the school.
He says its admission number will be increassed to 29 with an overall enrolment number increasing up to a maximum of 205.
He adds there are still other small rural schools in the same area whose future is currently under review by the managing authorities. It is therefore important that anyone with an interest in education provision in the Dromore area continues to engage and make their views known on the WELB draft plan for the area.