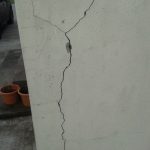 Homeowners across the North West are being urged to check their homes for signs of cracking by a group which is investigating the possible relationship between cracking on external walls and the use of mica in bricks.
The Mica Action Group says serious sporadic web like cracking has appeared mainly on external walls of affected homes, raising questions about the blocks used in construction.
In a small number of cases homeowners have been advised to move out of their houses due to the possible risk of collapse.
Last year, the group made a submission to Donegal County Council, and is now condicting a county wide survey to deternmine the extent of the probem, which has been compared to the pyrite issue which is now the subject of a redress scheme.
Philip Mc Daid from Inishowen is treasurer of the Mica Action Group………..


The group says the exact cause of the crumbling blocks isn't known but some of the common symptoms of the defective building blocks include
 Sporadic web/mapped like cracking to external walls
 Cracks on external walls only
 Vertical cracks close to the corners which extend from the ground from the roof
 Horizontal cracks on the gables
Anyone who spots cracking on their home is urged to contact the Mica Action Group urgently on 086 864 8888 or e-mail micaactiongroup@outlook.ie
Podcast: Play in new window | Download